Embracing Digital Transformation
Marina Mandarin, Singapore
Objective
PARTICIPANTS WILL:
1. Assess their digital maturity stage and develop a transformative roadmap in leveraging  the power of digital in impacting their business goals
2. Be able to determine strengths and weaknesses of their existing digial media capabilities (technology, vision, people) and optimise towards a holistic and cost-effectvie use of digital marketing
3. Understand and apply the brilliant basics of expanding current campaigns using digital marketing strategies via planning, buying, and optimising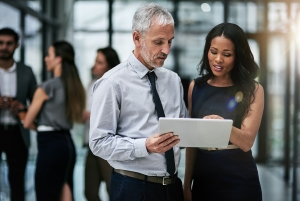 Schedule
How to Transform?
Today's realities of a fast evolving world driven by consumers demanding meaningful digital experiences with brands
How must we respond:
• Technology • Progressive Data Insight • People
Defining your digital maturity model
Level 1 – Customer engagement
Level 2 – Digital strategy management
Level 3 – Driving Data and Performance
Level 4 – Innovation and Pogression
Level 5 – Digital Leadership and Governance
Discovering the role (or roles) of digital for the brand
Solidifying your digital strategy – the diference of the "pyramid" and the "loop"
Digital marketing brilliance
• Planning • Buying • Optimising
Performance Marketing – measuring what matters
Building Benchmarks
Creating our brand's evolving ecosystem: from traditional marketing to omni-channel marketing
Deliverables
Participants to develop understanding of key stakeholders (customers, healthcare professionals, consumers, brand and competitors)
How to develop sales opportunities and solutions in a consistent and consultative way, that will add greatest competitive advantage for your brand
Attendees
Sales & Marketing, Strategic Marketers, New Digital Marketers, Commercial Managers, Media Managers
Date
26th July 2018
Time
8.30am - 5.15pm
Location
Marina Mandarin
6 Raffles Boulevard, Marina Square Singapore 039594
View on map >
Price
Full rate: £860+VAT